The Hurlet Crematorium
Raises Vital Funds for ACCORD Hospice
The Hurlet Crematorium has today 29th March 2023 made a £12,000 donation towards ACCORD Hospice in Paisley to help support the crucial end of life care that they provide for families from across the local area.
The funds were raised through the crematorium's membership of the Institute of Cemetery and Crematorium Management's national Recycling of Metals Scheme, and the money was officially presented to Jacki Smart CEO of ACCORD Hospice at the new state of the art crematorium located within the Hurlet Hills.
The Institute's Recycling of Metals Scheme is a national initiative and works by sensitively recovering metals and orthopedic implants following cremation with the consent of bereaved families.
David McNaughton, Manager of the Hurlet Crematorium, said:
"As professionals assisting the bereaved, we recognise the financial challenges that organisations supporting families at their most difficult and vulnerable time face. The funds raised through this recycling scheme donation will directly benefit the hospice and the families it supports, when they are facing a difficult time through bereavement.

"Our heart-felt thanks go to each and every family who consented to take part in the national scheme, without whom life-changing donations such as the one we are making today would not be possible."
Jacki Smart, CEO at ACCORD Hospice, said:
'' Thank you so much to everyone at The Hurlet Crematorium for supporting the hospice. This donation will make a huge difference to ACCORD in what has been a very challenging few years for everyone. At ACCORD we understand the enormous emotional impact of the loss of a loved one. Many thanks to the generous individuals who consented to participate in the scheme and thought of others and of course to the staff at the crematorium for thinking of ACCORD."

''We are very much looking forward to working in partnership in the coming months and years, with many potential ways we can support the families before and after the death of a loved one.''
David McNaughton added:
"Since its inception in 2006, the Institute's national recycling of metals initiative has now raised over £17.4 million, and it gives great comfort for those who have contributed to the scheme to know that the money raised, is used to support charities like ACCORD Hospice in the delivery of incredibly important and sensitive end of life care.

"Like ACCORD Hospice, we are absolutely committed to providing the very highest levels of care and compassion for families when they need support most, and we are incredibly proud to be in a position to make this donation."
Issued on behalf of ACCORD Hospice and The Hurlet Crematorium.
For further information on ACCORD Hospice please contact David McFadden 0141 581 2000 or email Info@acord.org.uk or by visiting their website www.accordhospice.org.uk.
For further information on The Hurlet Crematorium, please contact Jeremy Hamilton on 07807 426 879 (jeremy.hamilton@horizoncremation.co.uk) or David McNaughton on 0141 286 0536 (david.mcnaughton@hurletcrematorium.co.uk) or by visiting the website www.hurletcrematorium.co.uk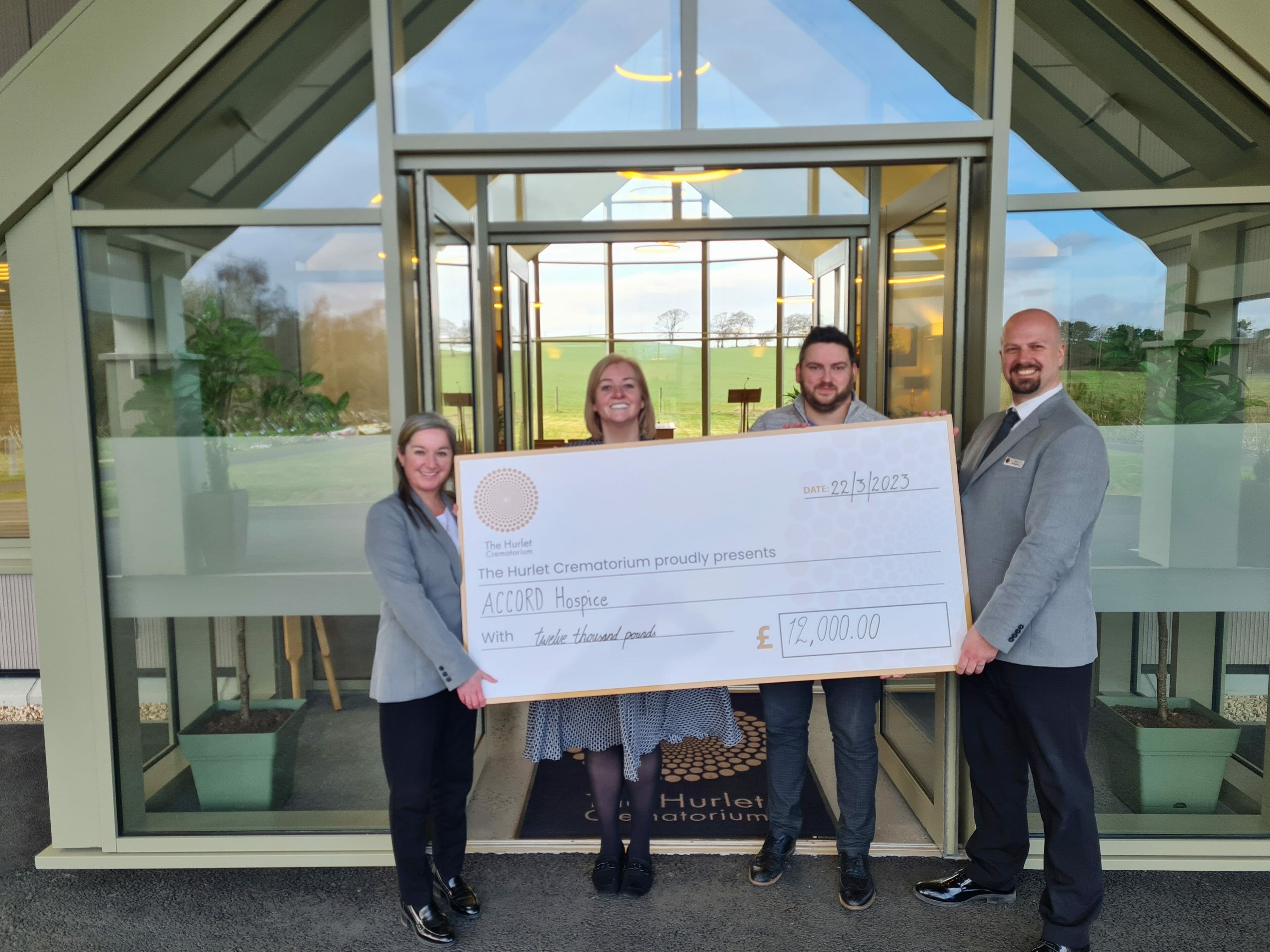 left to right Angela Johnstone – Assistant Manager, Jacki Smart – CEO Accord Hospice, David McFadden – Fundraising and Communications Manager, David McNaughton – Manager